Leading Stage, Corporate and Product launch Australian Magician
A Studio 10 & Studio 3 TV favourite.
Australian Entertainment "MO" Awards – Board of Directors
Australian Junior Magic Champions "CARDISTRY" – Producer & Creative Director
Band Of Magicians – Worlds first supergroup of magicians.
Starlight Children's Foundation – National Magic Coach for the Captain Starlight Program.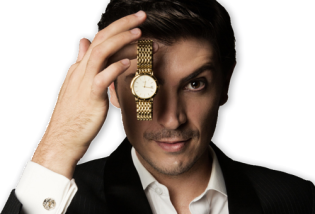 Regularly making magic for the rich, famous and big brands, he's levitated Jeff Fenech (3 times world champion), and become the basis of a character in a Tara Moss bestselling novel (siren)
Meet Adam Mada. Studio 3 (ABC) & Studio 10 television's favourite Australian magician, and one of Australia's most sought-after showmen and busiest entertainers on the corporate and Asia pacific cruise ship circuits.
Fresh and Funny Entertainer
This fresh and funny entertainer stands at the front line of contemporary magic without turning his back on the golden era of grand illusionism. Adam's original show is hilarious, interactive, smart, surprising and non stop amazing entertainment for adults and children alike.
Mada has dropped the jaws of audiences from everywhere from the Sydney Opera House to Las Vegas, consulted on or appeared in high-rating television shows (Ready Steady Cook, The Real Hustle, Australia's Got Talent, Studio 10, Studio 3 ABC) and critically acclaimed feature films (Sleeping Beauty), and energised major corporate events, cabarets, star studded charity events and grand class cruise-ships globally
Mada's exciting, original & interactive stage performances ensure that there's only ever one word on everyone's minds… magic!
He's dazzled a Kerry Stokes-hosted, Kevin Rudd-attended private garden party, and made Justin Hemmes miraculously appear before a 600-strong crowd at the notorious Merrivale CEO's Ivy Ballroom. His endless list of satisfied corporate clients include The Myer Family, BMW, Coca Cola, Microsoft, Apple, LG, Samsung, Google, Facebook, the 'big four' banks and the NRL.
If you're after entertainment that is thrilling, fantastical, and unquestionably unique, you're guaranteed to get it with Australian Magician Adam Mada.
Mada is based in Sydney, Australia with his partner Susie and their little bundles of magic.
Television
Mada is the current resident magician on Studio 3 for ABC 3 television Australia and Studio 10 Network 10.[13]
Adam starred in the Network Ten 2014 christmas special on Studio 10 with his famous magic drink routine. [14]
Mada appeared alongside magicians Nicholas J. Johnson and Clare Werbeloff in the 2010 series The Real Hustle for Channel 9.[15] He consulted on Sleeping Beauty, creating an illusion for the film's opening sequence.[16] In "Binge", an episode of ABC Television documentary Whatever! The Science of Teens, he worked with Neuroscientist John Currie Prof. John Currie to illustrate the effects of binge drinking in teenagers by applying magic techniques to memory tests.[17] During the 2012 season of reality television competition Australia's Got Talent, Mada collaborated with choreographer Sarah Boulter on a levitation routine for her dance group Ev & Bow.[18]

CHECK OUT THE TV CLIPS
TV CLIPS
Live performance
Apart from headlining cruise ships, festivals and the corporate stage Adam is constantly creating fresh and dynamic live public shows.
In 2015 Adam joined the worlds first supergroup of magicians, BAND OF MAGICIANS. Band Of Magicians are currently touring.
Mada was invited to headline the 2014 Hoopla festival with his Mada's Marvels show in Darling Harbour.[4][5][6] He is a founding artist of the long running El Circo Cabaret show running weekly at Sydney cabaret venue Slide now in its 7th year.[7] He has also maintained long residencies at Sydney nightspots De Nom, IVY, Tharens, The Chamber of Secrets[3] and is magician in residence at experimental cabaret show El Circo.[8][9] Mada has written, directed and performed a number of stage shows including "Mada vs. Vegas – the Duelling Magicians" at the Melbourne Magic Festival and Adelaide Fringe.,[10] He has also toured with Australian variety productions, most recently playing the character Two-Face in "The Batman Follies of 1929.",[2] is a Headline act for the 2013 national Gangsters ball tour.,[11] Mada is playing the character Rasputin in Slides 2013 production of El circo Blanc.[12]
2015 – BAND OF MAGICIANS SUPERGROUP.
2015 – Producer, Director CARDISTRY DOUBLE TROUBLE Melbourne Magic Festival
2014 – Producer, Director, Lead MADAS MARVELS Hoopla Festival Darling Harbour
2013 – Present Host, producer MONDAY MARVELS LOW302
2007 – Present Lead Magician EL CIRCO CABARET Slide, home venue
2013 Headliner GANGSTERS BALL NATIONAL TOUR National
2013 Rasputin Magician EL CIRCO BLANC Slide
2013 Writer, producer, performer MADA's MARVELS Melbourne Magic Festival
2013 Variety artist BATMAN FOLLIES OF 1929 The Vanguard
2012 Variety artist BATMAN FOLLIES OF 1929 The Vanguard, Canberra Theatre
2012 Writer, director, Lead CHAMBER OF SECRETS National Drama Center Singapore
2012 Writer, director, Lead, Solo MAGIC Ritz Carlton Hotel
2011 Lead Magician EV & BOW CONTEMPORARY Parade Theatre NIDA
2011 Variety Artist BURLESQUE ROYALE TOUR State theatre, Crown Casino
2010 Lead Variety Artist VAMPIRE STORIES Slide Cabaret
2010 Variety Artist GANGSTERS BALL TOUR Metro Theatre, Forum Theatre, The Tivoli
2010 Writer, director, lead MADA VS VEGAS Melbourne Magic Festival, Adelaide Fringe Festival
2010 Lead, Solo ADAM MADA PRESENTS Perth Wild West Comedy Festival
2010 Variety Artist LATE NIGHT LOUNGE Sydney Opera House