AUSTRALIAN JUNIOR CHAMPIONS OF MAGIC
CARDISTRY in "DOUBLE TROUBLE"
Melbourne Magic Festival
Presented by Mada Productions
Current Australian Junior Close Up Magic Champions take their award winning competition act transforming it into a rollicking full stage show.
13 year old Lukas & Ash form a cheeky duo, charming the audience with skillfull displays of "cardistry", slieght of hand playing card illusions, interactive mind reading and lots of ridiculous surprises. The show is highly original, featuring comical and incredibly dextrous magic skill well beyond their years.
Running hot of their championship win, the duo have been busy busking and performing at charity and corporate events. "Double Trouble" is fresh and modern and will appeal to the hot new trend in magic for youngsters.
Directed by Adam Mada Produced by Mada Productions.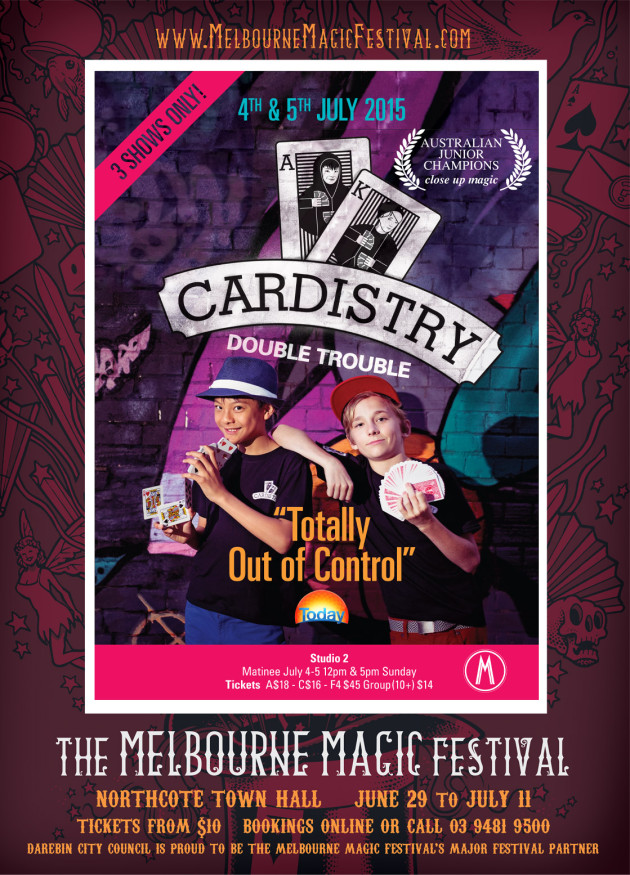 LUCAS & ASH
Lucas and Ash met one day at a magic store, started talking about their shared passion for magic and have been performing together ever since. Together they are known as CARDISTRY.
Now at the ripe old age of 13, Cardistry perform regularly for the public in Pitt Street Mall and at corporate events, weddings, festivals and private parties. They also love to entertain children in the Starlight rooms at Randwick & Westmead Children Hospitals and at various charity events. Wherever they might find lovers of magic!
Lucas and Ash were crowned "Australian Junior Close Up Magic Champions" in 2014 under the direction of Australian magician Adam Mada, enjoying a run of success featuring as an opening act in a number of public shows and featuring on the Today Show.
"We love doing magic because we meet new people, make people laugh and happy. We love that moment when people react with disbelief!" – Lucas and Ash