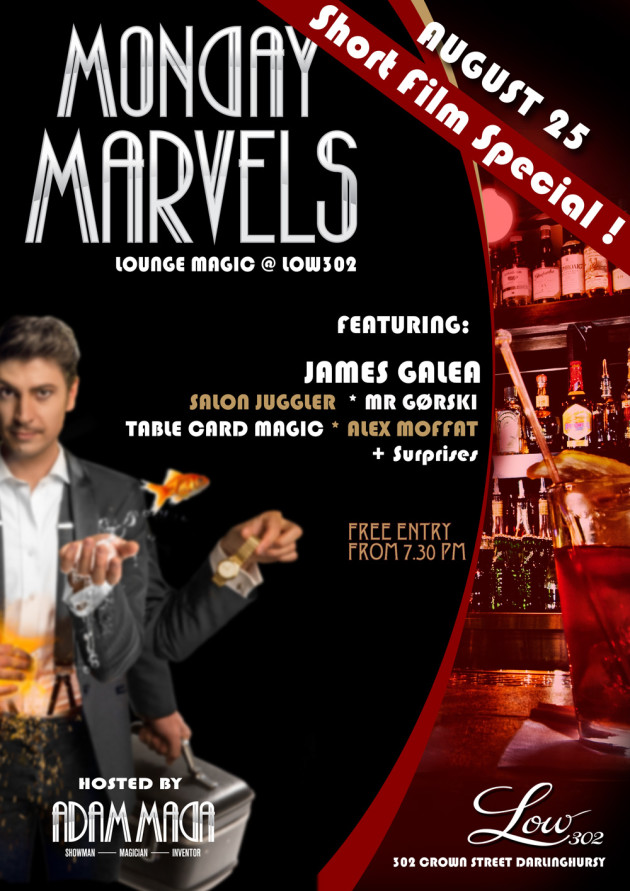 Featuring
 INTIMATE TABLE MAGIC * ALEX MOFFAT
Your host * Mr Adam Mada
 What happens when you mix playing cards a grand piano and a multi-million hit YouTube sensation?
 Come to Marvels this month and find out a night that promises to be nothing short of magic…
 Kick back in a comfy lounge and order a signature cocktail while the outrageously debonair Mr Mada and his super talented friends tickle your imaginations and warm your souls.
 Alex Moffat will break your brain at the tables with some slick finger flicking excellence, watch close and you may even see his signature flux effect live and close.
 Mr Gorski, a true star of vaudevillian salon circus and a series regular on Hoopla Doopla with his alta ego Jango, is guaranteed to blow your socks off with the most phenomenally skilled moves you've ever seen this close
 To top it all off our headliner, the uber talented James Galea (Creator, Band of Magicians), will be paying us a visit direct from LA to  knock the dust off the old grand piano and serenade us with a special brand of music and magic.
 Signature 3 course magic dinner special available on request.
 Show is FREE but dinner reservations are highly recommended  (we really really suggest you book, sells out every show)
302 Crown st Surry Hills
From 7pm.